Blockchain Technology Review
7701
2018-12-26 01:20
What is blockchain?
A blockchain is an incorruptible distributed ledger that is…
Hosted by multiple parties
Secured by crypto algorithms
Append-only/immutable and thus verifiable in data storage
How does it work?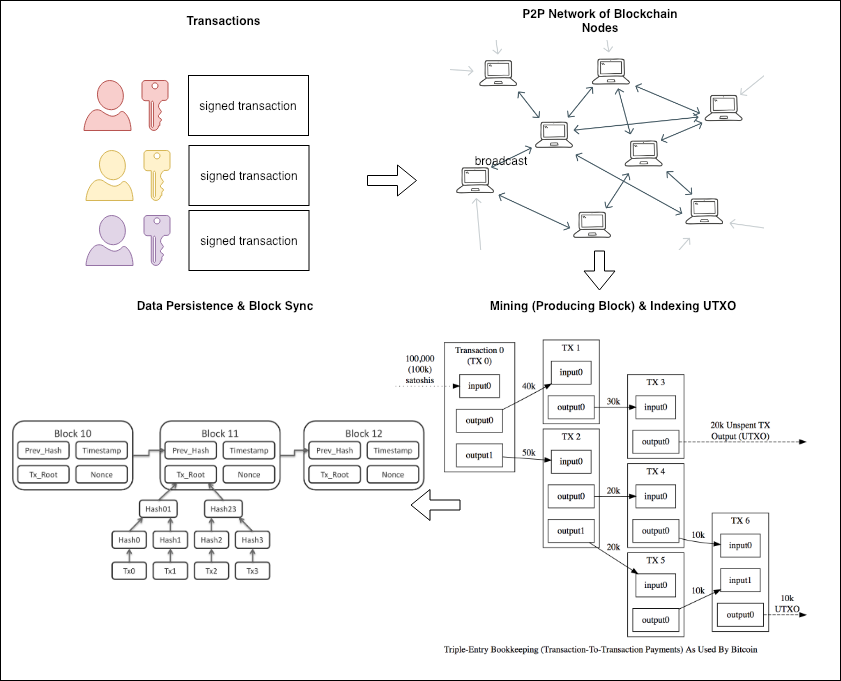 Categorization: Public vs. Private vs. Hybrid Blockchains
Public: It is permission-less to join the network.
Private: The permission to join is centrally controlled.
Hybrid: Multi-parties control the permission to join.
Do you need a blockchain?
Architecture
Hardware: computer resources = computing + networking + storage

Basic Utils: P2P network + crypto + data storage w/ db or filesystem

Ledger: chain of data blocks + domain-specific data models

Consensus: write first consensus later (PoW/PoS/DPoS) / consensus first write later (PBFT)

Smart Contract: limited program running on the blockchain

API: RPC + SDK

dApps: 1) transfer of values 2) data certification 3) data access control

DevOps: deployment, operations, metrics, logs
Industries
Financial Services

crypto exchange: binance, coinbase, etc.
international payments: ripple, stellar, etc.
Know Your Customer (KYC) / anti-money laundry (AML): civic

Health care

sharing data across providers, insurers, vendors, auditors, etc

Public sector

asset tokenization
transparent voting in public election

Energy and resources

trading
sharing data across suppliers, shippers, contractors, and authorities

Technology, media, and telecom

DRM and incentivizing content creator
securing operations and data storage of IoT devices

Consumer and industrial products

loyalty points programs in traveling
document signing
supply-chain management